Saving money, or minimising cost, on the cheapest live chat you can deploy could be the most expensive mistake you make for your business.

Recently I explored different levels of live chat quality, comparing them to hotel star ratings. This got me thinking that if live chat clearly varies in quality from a customer perspective, then the financial outcome for the business must vary equally. But how many businesses take the time to evaluate the true cost of the service quality they chose to invest in?

Below I've detailed the impact I believe each level of live chat quality has on a business. On this rare occasion, we look through the eyes of the business, and ask whether the quality choice was wise.


At the lowest 1 Star level, we found essentially a form filling exercise for the customer. So we ask ourselves, what is the value of just getting minimal contact details?

More to the point, how many didn't bother because the service was poor?
Going further, how many left details, but unsure of any response they moved on to a competitor and found their needs met there?
Then add the cost to your business of following these up to find them dead or cold. Even if not, they are unqualified, without context or background, so impossible to prioritise.

Business Impact:

Negative

– this has cost you money. Little or no return to cover costs, and HUGE lost growth opportunity for business.


Next level at 2 Star was of course 'chat, but no-one is available'. It's very difficult to argue that this is better than 1 star, and may even be worse for reasons previously suggested. Outcome is often measured as 'Reality minus Expectation' and here we will have a very negative score.
All the same questions and behaviours as above, but with greater frustration felt.
Perhaps the customer is able to log their requirement, which gives a glimmer of hope for the business, but sales teams are really up against it if their follow-up is not swift and effective.

Business Impact:

Still Negative

– unquestionably loses a proportion of customers, but small opportunity remains to capture some return. Overall, not enough to recover costs, and mitigate lost opportunities for growth.


Up a level to 3 star, and we now have a chat service, but there's a lot of queueing and waiting, and as we know consumers are not patient beings anymore. But those who persist do at least get a service of sorts.
Similar to 2 star, we must ask ourselves how much additional investment the business is prepared to invest in terms of staff time and training to leverage the initial service investment?
It all comes down to whether the business is prepared to prioritise live chat service over other activities their staff are engaged in. So calculating the full cost-benefit equation becomes complicated.
One thing is certain though – in trying to deliver the service themselves, taking their own staff costs, plus the opportunity cost involved, 3 star becomes enormously expensive.

Business Impact:

STILL Negative

– the hidden costs of service at this level far outweigh the benefit, and covering cost of service is a vicious circle of diminishing returns.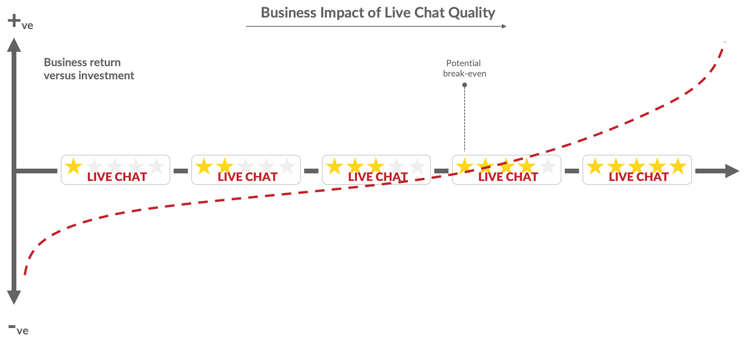 At 4 star, things finally change for the better. There is a real opportunity to break even. Reasonably timely response, now outsourced to an overflow service. Might just be message taking, might be better. Either way you are capturing and holding the customer's attention momentarily. And you are clearly setting an expectation too, which is good.
So conversion or realisation of a return should be possible here, subject to the quality and speed of follow-up. But plenty will still not be converted, as the 4 star service is not proactively nurturing prospects.
The limitation of return at this point is down to a primarily reactive approach, which in a time-critical, competitive, consumer environment is simply not enough to win at a volume or frequency for the highest returns.

Business Impact:

Break-even to positive

– returns are possible, but for a very small additional investment could be fully optimised.


Finally the gold standard, 5 star approach. A service which marries both the customer objectives and the business objectives at the immediate point of customer engagement.
Dedicated operators, trained to fully engage, understand the reason for enquiry, and carefully targeted questioning, leaves the customer feeling they have started a valued commercial relationship with the business.
The customer first, proactive nature of this level of live chat service, ensure that every engagement is optimised for the best possible outcome. Instant (and I mean within 15 seconds sort of instant) response, 24/7, with first objective to satisfy the customer enquiry, this service looks after the customer first, but nurtures them actively to a deeper engagement for the business. It's a win-win.

Business Impact:

VERY Positive

– outsourced investment focused on channel expertise, efficiencies of scale and single-purpose, results focus and uncompromised customer first approach. Consequently, maximum returns achieved.




Good Live Chat doesn't cost anymore than bad Live Chat, what does differ is the OUTCOME.

The objective is always deep, meaningful engagements that tease the critical data from the web visitor rather than demanding it. The problem is that many businesses do not rationalise the cost benefit equation correctly, and choose to compromise the objective.

The true cost benefit equation contains the following critical elements:
COST OF OVERALL SALES PROCESS
VALUE OF LEAD VERSUS COST PER LEAD
VALUE OF APPOINTMENT SETTING / SALE COMPLETION
VALUE OF CUSTOMER EXPERIENCE
END TO END CONVERSION FOCUS
EFFICIENCY OF COMBINED SALES PROCESS ELEMENTS
If you'd like to talk to Yomdel more, about your sales process, and how to maximise conversion, just get in touch with us anytime.
In fact, we do a 20 minute online demo discussion, if you'd like to book one with us.
Tim Breden is COO at Yomdel. Get in touch any time to chat about 5 Star Live Chat, if you're serious about growing your business.