Yomdel is the UK's

pioneer of

24/7 managed live chat.
Since launching in 2014, Yomdel has grown to become the UK's leading provider of customer experience-enhancing services, and has had a

big impact on thousands of businesses.
Where we've come from
Andy Soloman, our founder and CEO, launched Yomdel because he saw how companies were struggling to keep their web visitors engaged. In an age of instant access to wifi, high-speed internet connections, social media and on-demand TV, consumers were busy, distracted, and impatient. He realised that businesses were losing customers because they were struggling to meet their expectations online . And who could blame them? When more than half of your visitors are coming to your website out of hours*, you can hardly be expected to sit there all night answering their questions, can you?
Andy saw an opportunity to fix this problem by enabling companies to offer personalised conversations with real humans, online, 24/7... And so Yomdel was born!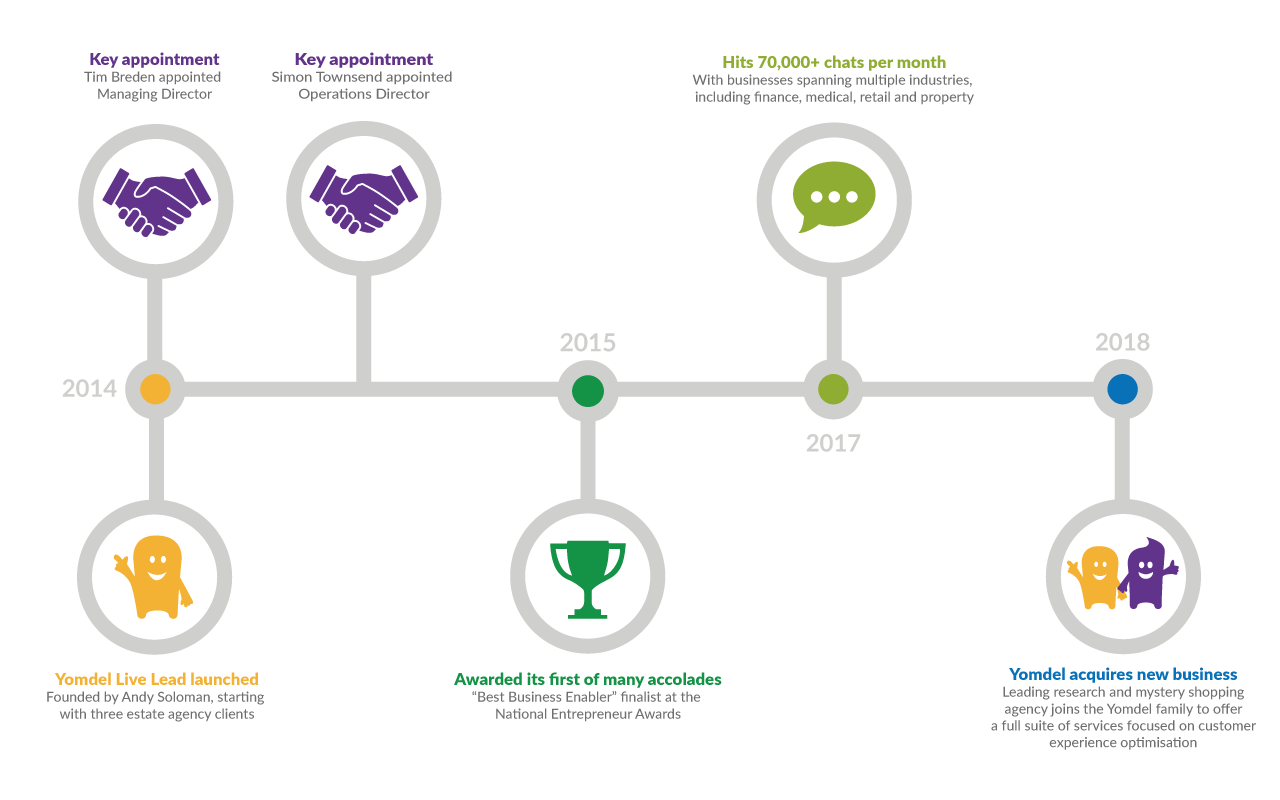 What we do
Here at Yomdel we work with our clients as business-growth partners. Since launching we've expanded rapidly and have developed a suite of innovative, market-leading products that deliver incredible results. With our live chat service alone, we handle 70,000+ chats every month and help businesses of all shapes and sizes to drive as much as a 52.3% increase in online leads.
We work as an extension to our client's teams, offering services that help optimise the performance of their businesses both on and off-line. We achieve this through the enhancement of what we consider to be the most important part of any buyer journey...the customer experience. We help businesses impress their customers from the very first interaction with their brand to the very last with intelligent, 24/7 live chat, mystery shopping and market research.
What we stand for
You'll notice that our approach is pretty different. Our brand is fun and quirky, because who said business has to be corporate and strait-laced? We're a bunch of friendly, down-to-earth people who are passionate about using our fantastic range of products to help companies grow, and we like to think that our passion comes across in everything we do.
We're proud of what Yomdel has achieved: we've innovated, expanded our offering with an exciting acquisition, and won a fantastic number of awards and accolades that tell us we're on the right track.