Posted by Andy Soloman - 28 November, 2017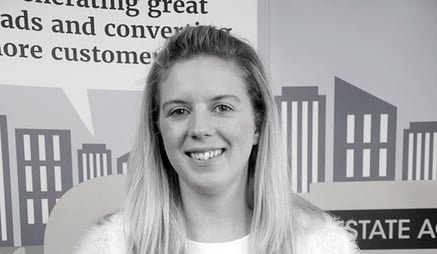 Here at Yomdel we like to think of ourselves as a friendly (yet professional) bunch. We're passionate about delivering the best possible leads and customer service solutions to be found anywhere online, while at the same time delivering it with a smile.
Rebecca Howard – our Operations Manager based at the Head Office in Billingshurst in West Sussex, agreed to do a quick Q&A in order to provide a sneak peek into life at Yomdel.
I've been working with Yomdel since March 2015, joining not long after the business was started in 2014. In my role as Operations Manager it's my job to ensure that the services provided to our clients run smoothly and is delivered to the highest possible standard.
Describe your typical working day
No two days are the same, which I love! It's pretty fast paced and demanding in terms of work load. Organisation and prioritisation are key! On any given day I can be managing current client reviews, onboarding new clients, optimising existing client accounts, undertaking client Google Analytics analysis or providing UK Operations team training.
If you were faced with 200 emails and 20 minutes to sort them, how would you decide which ones to tackle first?
200 in 20 mins! I'd delete the 'nice-to-reads' and delegate the quick tasks to relevant UK ops members. Next I'd prioritise the rest depending on urgency and importance to ensure that they are all dealt with promptly. Our customers love how quick we are to respond and often comment on it!
What's the highlight of your working day?
Getting new clients live is always a great feeling. Hearing the success stories from our customers about leads that we have generated for them and have turned into a high value sale is always really satisfying. It's pretty fun working in Yomdelhurst generally so a bit of banter with the team when the opportunity arises and the deadlines allow is something to look forward to!
If you could give our customers one piece of advice to get more out of their Yomdel service what would it be?
Treat us as an extension of your internal team. The clients that work closest with us and communicate regularly with any company updates are the ones that tend to get the highest return on investment. Having all the information means that we can optimise the knowledge banks and provide further training to our chat operator team.
What do you find most satisfying about your job as Operations Manager?
Hearing the success stories! When clients share how well a lead has performed or how excellent a certain chat was, it makes it all worthwhile.
How do you define success in your job?
Helping to grow the business, seeing clients receive excellent service and maintaining a happy team
What are you most looking forward to in 2018?
Continuing to see Yomdel grow, adapt and win more awards. Oh, and a holiday!
Click through to find out more about Yomdel live chat or to learn more about the Yomdel team.