MIND THE GAP
Being COVID compliant is essential to bringing customers back with confidence. Every UK business needs to consider how they intend to be perceived by customers in the critical months ahead.
As a member of the Mystery Shopping Professionals Association (MSPA) I recently attended a Zoom meeting to go over UK survey results on the experiences of the general public whilst out and about shopping, dining and living their everyday lives in late October and early November 2020.
The survey looked at the principles of Covid-19 transmission reduction: namely the provision of hand sanitisers, suitable signage, social distancing (staff and customers), the wearing of PPE by staff and mask wearing by customers.
Whilst the results were not particularly surprising, human nature being imperfect as it is, it did bring home to me once again the importance of monitoring how well your business is performing against these measures and that if you don't, you may risk your business AND your health.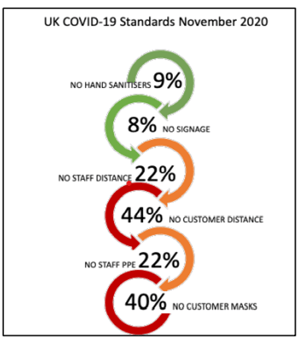 There is still a 22% worrying non-compliance amongst staff in terms of social distancing and the wearing of appropriate PPE. This has a clear negative impact on consumer confidence when out and about accessing shops and services, the likelihood of them returning, or recommending to others.
Even more worrying is the 40% of customers who fail to wear a mask consistently in retail environments or adhere to social distancing guidelines. Whilst retailers are not directly responsible for how their customers behave, these findings would suggest more could be done to encourage appropriate behaviours more strongly, whether that's in-store monitoring or more obvious messaging.
How do the measures affect perceptions of safety?*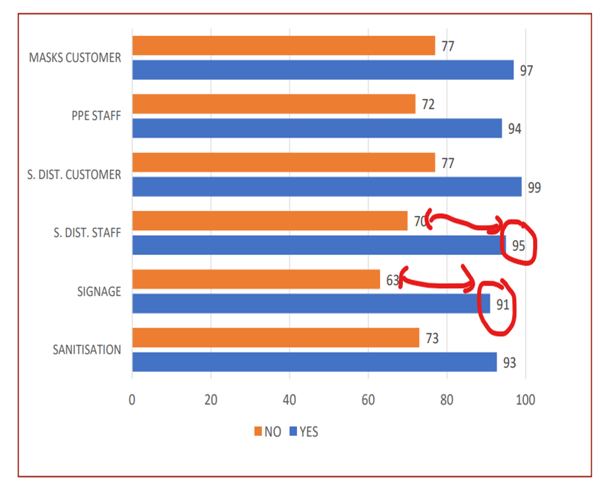 Orange = when safety measure is absent, Blue = when safety measure is in place
There is a clear indication that if all measures are properly fulfilled it will increase a sense of safety by over 20%. The gaps show all elements are important but that staff social distancing (25 points) and signage (28 points) have the most impact.
Both these elements are directly in the business's control, so make sure you are complying! Audit your Covid promises and protocols and ensure your staff follow them consistently. The benefits are four-fold:
Staff safety
Customer safety
Better customer experience and advocacy
Encourage behavioural change in the wider population by modelling best practice
How likely are customers to recommend?*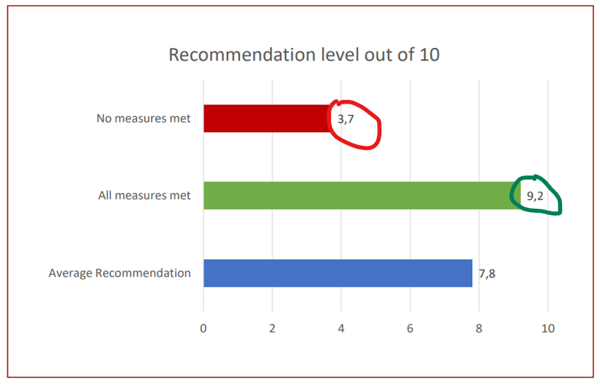 And if customers' safety perceptions don't convince you to take compliance seriously then take a look at how the likelihood to recommend score decreases when hygiene measures are absent. Social currency and word of mouth recommendations (via social media) are essential, now more than ever.
Establishing consistent Covid-compliance measures and communicating empathetically with your customers across all channels will help avoid any reputational damage as well as drive advocacy levels and repeat business. Failure to do so will not only lose you the customer in question, but potentially many of their social circle too, as they become active detractors of your business. Your customers need to trust you will take care of them.
Mystery Shopping is the ideal tool to make sure your business is delivering a quality customer experience safely and securely. What better way to reassure your customers that it's safe to come back than to prove it through independent, third-party auditing. And, if you do identify any gaps, then the insights gained from your mystery shopping reports can feed neatly into your training programmes, ensuring your staff are confident and motivated to deliver exceptional customer service in these exceptional times.
If you decide to implement a mystery shopping programme, choosing a provider who is a member of the Mystery Shopping Professionals Association, is a good starting point.
Links to the full research report and press release here:
MSPA EA Snapshot Survey Summary Report - UK - dd12112020.pdf
https://www.mspa-ea.org/en_GB/news/newsitem/119-mind-the-gap-part-2-businesses-continue-to-miss-the-mark-on-covid-19-as-lockdowns-continue.html
*All charts are MSPA intellectual property and copyright. Published here with their kind permission.
For more information please feel free to contact me anytime, gina.mayhead@yomdel.com