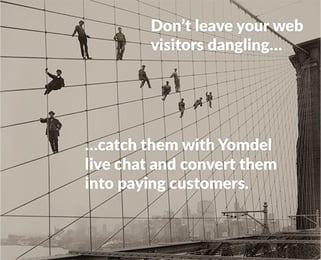 Omni channel support, you may ask yourself. What on earth is that? Well, if you are looking to invest in your website, increase your business and generally make your company more customer friendly to the 21st century shopper, you need to be omni channel ready.
It's all about linking. Your customers want to access your services via a number of different methods, perhaps starting the journey online, and then give your office a call. Or perhaps they start looking at your website whilst at work, and then carry on the search that evening on a different device in a different location. Not only may the device be different, but your customer, or potential customer, may look at different versions of your website – desktop and mobile. Not only therefore is it important to link the customer journey for the consumer, but also the look and feel of the websites being browsed.
Live chat can help you to support your customers' experiences and enable you to deliver a better and more robust customer journey. Remember the last time you called a large call centre, took option 3 of the 5 offered? When you finally got through, answered all the security questions, explained your issue and then got passed to a different department, to have to repeat yourself again, with the every chance that you are still not in the right department? The frustration of having to repeat yourself again and again is enough to drive some of us insane!
By using the Yomdel Live Lead service, customers should only have to give details once, to the chat operative, which are then passed to your staff to contact the customer and pick up with them where Yomdel left off. It's a warm lead, which are normally easier to convert, and generate more revenue for you. From your customers perspective, it's instant contact with your company, rather than waiting for an email to be replied to, or heading back into the dreaded phone queues!
Yomdel Live Lead – impactful the moment it is installed on your website. One recent nationwide customer saw 24 chats happen in the first 24 hours of going live. Of these 25% converted into a lead. Not bad for the first day!