Late March, when the majority of the UK entered a lockdown, seems a lifetime ago, with behavioural restrictions placed on society the like of which we have not seen before.
In reality only 4 short months have passed, but we're already seeing a clearer picture of the impact those restrictions will have on an ongoing basis, as lockdown habits transition into permanent post-lockdown behaviours.
With various 'new normals' appearing, from the way we work, to the way we exercise and the way we socialise, there are many interesting shifts in behaviour to analyse.
So here we take a favoured approach at Yomdel, and look through the eyes of the customers we observe every week.
What CX changes have we seen?
1. Digital interaction is now everything
People are now used to living and working remotely than ever before. And whilst Government advice to work from home where possible is now relaxed, it is widely evident that a growing proportion of people will work from home, and manage their lives at a distance.
This impact was probably to be expected, but the scale of it is truly fascinating. Consumer online engagement has surged to record levels.
Yomdel's analysis of major UK property websites shown in the graph below, now covering c.35 million website visits over the last 18 months, has seen property website visits surge to 40% higher than pre-lockdown levels. And whilst the high street is beginning to reopen, we believe the behavioural shift has already happened. And continued Covid-secure measures will continue to reinforce this, to a point where it will never return.
Online engagement now completely dominates customer behaviour, and every business must offer an exceptionally smooth website/digital experience to be successful moving forward.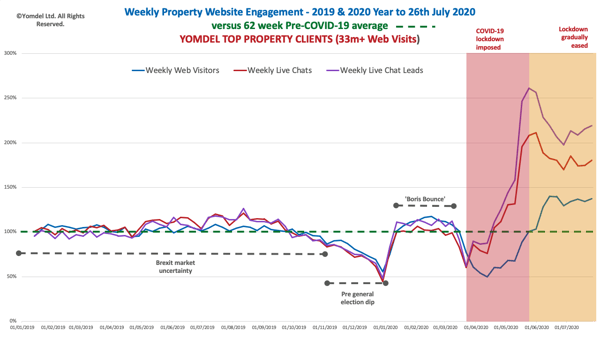 2. Customers now communicate on their terms
From the comfort of their own home, or on the move in personal space, consumers are reaching out to businesses online, to source what they need, whether that is groceries or even moving house.
The same graph above indicates customer usage of Live Chat facilities on those same property websites. Where website visits are up 40%, usage of Live Chat is up a whopping 75% on previous levels, and proactive enquiries up over 100%.
Customers are now looking for instant, 24/7 means of contacting companies to answer questions on their way to using a service or buying a product.
Handled effectively, live chat offers a brilliant means for your customers to engage with your business on terms that suit them, getting an immediate textual response to any type of query they may have. Not only can this drive great online customer satisfaction scores, it can also massively increase the number of conversions your website will generate.
Now is definitely a time to consider live chat as a means to delivering an exceptional online customer experience and capturing vital new business opportunities.
3. Consumers still want personal experience
Digital does not have to mean impersonable. Your customers may be visiting websites at higher rates, and using digital channels, but that does not mean they do not want an exceptional personal experience.
If you are a business that historically required physical meetings or a conversations to secure a sale, you will now find that customer expectations are shifting very rapidly. Remote video conferencing software has rightly seen a boom during lockdown. It has enabled businesses to keep that face to face engagement with their customers in a safe manner, but it has also awakened customers to what is possible.
Customers now expect virtual services, using video for tours, demos and consultations. With customers requesting video engagements like never before, this is an absolute must for companies to consider right now.
Ensure you are exploring all alternatives to maintain this 'human' experience in your business, whilst being available 24/7 to your customers digitally.
What next for CX?
The ideal customer experience never stops evolving. Customers don't stand still. They embrace what is new, and business must move with them.
In ten years' time, when we are looking back at the insanity of having lived in isolation for months, the measurable impact of Coronavirus on the Global economy will be significant. However, what has been true before, will be true again.
Businesses that understand what an exceptional customer experience looks like, and businesses that invest in delivering on new customer expectations will succeed more than those that do not.
One more certainty is that Yomdel will still be championing the customer and great customer experience in whatever form that takes.
Chat with us any time, we are always here to help. Feel free to comment below, tweet us @yomdel or drop Chris a line at chris.smith@yomdel.com. We look forward to hearing from you.