Posted by Tim Breden - 28 February, 2020
21st century customer expectations are sky high, and evermore challenging for businesses to live up to. Continuing our football theme, this week we're taking lessons from the impact of CX on the final frontier of customer advocacy: the football club!
Surely die-hard fans for life have unconditional love for their club? How much does Customer Experience matter there?
Back in the 70's (when I was a lad 😉) as a teenage football fan there were only a few things that were certain. You entered the ground and the team came out the tunnel! If that happened most clubs would have concluded that they'd done their bit in terms of customer experience.
Toilets? A precarious piece of guttering attached to a brick wall, that led off to who knew where! With a smell that would test the nostrils of even the hardest of the group of fans. Something not lost on me when I saw many a broken nose, and thought that maybe the escalation in football violence was just a way of blocking your nostrils to avoid this.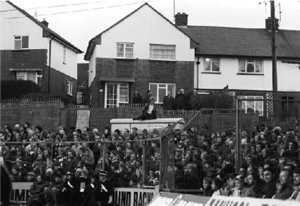 You could buy a programme, a cup of tea and a hot dog. But whatever you did, you never challenged the provenance of the meat, the overuse of plastic or even the presentation of said snack!
You also stood on the terraces watching the game, open to the elements, sometimes contained behind a 10 foot high metal cage. The 21st century English Premier League experience was but a distant dream.
My local club is, Brighton & Hove Albion and I've had a season ticket since 1999, when the club played at a temporary ground only just having returned from several years in the wilderness. Homeless, penniless and struggling for survival, due to an asset strip of catastrophic proportions, they had been playing in Gillingham, miles away from Brighton, prompting an every decreasing fanbase. I imagined as we fought for a new ground and maintained our league status that everyone would be happy when we moved into a purpose built, state-of-the-art football stadium ….. but it would appear not.
Despite Brighton not only surviving and building a state-of-the-art stadium, and globally recognised Football Academy, whilst also seeing success on the pitch leading to three seasons, so far, in the EPL, it's not quite enough. Suddenly people are complaining about the queue to buy vegan snacks, Chinese noodles and nationally recognised award-winning guest piglet pies!
They are complaining about the 30,000+ people trying to get to and from the ground, the scoreboard isn't right, one of the pre-match bars is too small, or the pre-match meal served in one of the sumptuous lounges doesn't have enough choices! Trust me when you ordered a hot dog a few years ago you were lucky to get a surly "d'you want onions?"
So what exactly does a business have to do to achieve customer satisfaction? Or is there simply more at play here?
At The Amex they make visiting supporters feel at home. Yes. Really. They light the area in the visiting clubs' colours, they put up posters of visiting clubs' legends and even bring in the local ale from the region of the visiting supporter. Because this club understands the expectations of the 21st century customer.
Despite the plethora of accolades The Amex (or rather The American Express Community Stadium) has won the club knows it still has work to do. The bands playing in a mixed fan zone area, the state-of-the-art club superstore, and the best seats (for comfort) in the EPL aren't enough! In today's world, standing still is simply not good enough.
Why has so much changed? It was simple before. You just supported your team, and went to every game. But now Brighton, and many other clubs, are spending serious money on the Customer Experience, and turning fans into satisfied customers.
But why? Why spend money on visiting fans who had an allocation that could have been sold twice over? Fans who only visit the club once a year!
Why do they have dozens of people outside the ground whose sole purpose is to help, and whose bibs clearly show "I'm here to help"! Brighton sell out every game and have a waiting list of thousands for season tickets, so why spend money on anything more than the basics? Why not save it for the bottom line?
Because clubs need fans, but more importantly they need satisfied customers to ensure long-term financial success. Brighton & Hove Albion is now a brand, and brands need to be protected for long-term value. Everyone should have a great match day experience, which is what the "I'm here to help" match-day hosts are there to ensure. There is so much choice available today to customers, that the club simply cannot afford a poor experience.
To evidence this I get a survey to complete after EVERY match asking about my experience. And fan forums regularly address any and all concerns face-to-face, with the very accessible club CEO Paul Barber and, sometimes the Chairman too.
Brighton work hard to ensure they are a significant force for good in the community with many 'Albion in the Community' initiatives and they work tirelessly on match days to lessen the impact of the stadium on the immediate community around the ground. It's not just the experience of customers which can damage the brand.
Why such exceptional effort though, especially if they are over-subscribed?
Because they realise that the beautiful game is going to need a sustainable fan base, and that's not going to come from the old men from the '70s, or even their legacy handed down. They understand that sustainability comes from recognising your audience today. 21st century families with disposable income, and limitless choices for entertainment, no longer tolerate the brick toilet by the North Stand back at The Goldstone Ground.
And given the choice available to customers nowadays, both The EPL and Brighton recognise you must build a global fanbase, to maximise market opportunity, and then offer excellence in every part of your customer experience to maximise revenue. That means clicks on the website, to purchase match replica football kits, also supporting the clubs cherished business partners, American Express, Nike etc.
Much is done in terms of digital engagement, with polls for the Man of the Match to an ever online fanbase leaving the ground, served with money off vouchers or promotions from commercial partners. Every single avenue must be optimised and leveraged for revenue opportunities.
After all you can still be a club member without having a season ticket. You can still buy club merchandise or take part in a club tour, and you can still wear your club merchandise in Brighton, Bangkok or Beijing with the main sponsor, sleeve sponsor, EPL logo and club logo emblazoned on it.
Football may be the beautiful game but with the TV rights worth £9bn for the next three years, the competition is a feeding frenzy where everyone wants a share. No-one can afford to take their eye off the ball 😉
I'm Tim Breden, and I'd love to talk all day about Brighton, but I'm just as happy to talk about customer experience and how I might be able to help you optimise your customer journeys, deliver the very best customer experiences and make your business more successful as a result.
Tell me your thoughts below, or just drop me a line at tim.breden@yomdel.com
Yomdel helps over 3000 UK businesses across multiple sectors achieve growth through Customer Experience.
If you'd like to talk to any of our experts, you can easily schedule a chat: