Posted by Andy Soloman - 17 May, 2016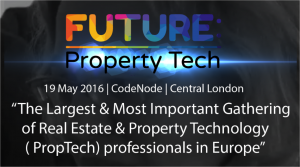 At Yomdel we like to carefully choose events we attend. Be they exhibitions or conferences, for us the most important thing is not necessarily how many people will be there but the calibre of the people that will be attending.
This is the case with FUTURE: Property Tech (or PropTech as it's widely known), which takes place in London on Thursday. This cracking event is bringing together more than 400 people representing major property brands, investors and technology innovators and disrupters from the rapidly emerging and growing PropTech sector.
Yomdel is not a pure-play PropTech business, but we are experts in creating outstanding Digital Customer Experiences. Our services bring human interaction online and to do this well we harness the best that technology offers.
The event itself, which takes place at CodeNode, the UK's largest venue dedicated to technology events, has a strong focus on sharing and networking. Yes, there is a main stage and some great content from brands such as Google, CBRE, Kontor London, Zoopla and Rightmove, but it is the breakout roundtable discussions among small groups that promise huge value.
Here's a full list of the fascinating PropTech companies that will be exhibiting alongside Yomdel:
If you're coming along drop us a note and it would be great to meet.