People often wonder where the true value lies in Mystery Shopping. And the answer lies in the blend of insight it offers between asking real customers what they think, and asking customer experience experts how well you are performing.
SEE THE WORLD THROUGH YOUR CUSTOMERS' EYES
Mystery shopping, or secret shopping, as it is sometimes called has multiple benefits for businesses and organisations. But its first purpose is to enable management teams to see their business through the eyes of their customers. This is essential for managers, because the longer someone works with a business, and often the more senior they become, the harder it is to remember what it is like to be an authentic customer, experiencing their product or services as a user rather than a provider.
Seniority in a business, and the subsequent extra responsibilities that entails, can also make it difficult to keep in touch with frontline staff and: a) keep an eye on how they are interacting with customers and; b) see any pain points or recurring issues that could be resolved through a process tweak or a targeted training session.
MYSTERY SHOPPING AS A TRAINING TOOL
Using mystery shopping results and insights for staff training and motivation is another key purpose of the exercise. Not only do managers forget what it is like to be a customer, so too can frontline staff, or any other staff in a business.
Mystery shopping provides very detailed feedback reports, which can be used directly as a training tool with individual staff members, feeding into training programmes or being used as a demonstration of best practice.
Businesses who understand the purpose of mystery shopping as a motivational tool commonly link the results of their mystery shopping programme with staff rewards and incentive schemes. This has the dual consequence of improving performance by incentivising staff to score well, and nurturing a positive, supportive learning environment.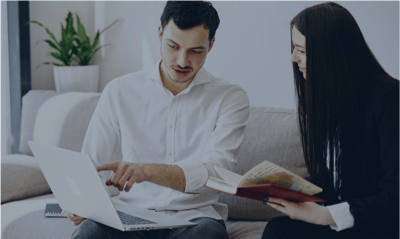 Better performance leads to more effective sales process delivery and superior customer experiences, which leads to enhanced business growth.
Mystery shopping outputs are commonly in multi-media format such as written transcripts, audio files from telephone interactions, audio-visual screen grabs and recordings for virtual interactions, and even video footage of face-to-face interactions.
This wealth of evidence and research materials make it an irrefutable record of what took place and creates a powerful and versatile resource for managers. People learn in different ways and a variety of media enables individual staff members to choose the way that works best for them, brings the learnings to life, and drives more effective assimilation of sales processes and customer service delivery.
CUSTOMER JOURNEY & PROCESS TESTING
Mystery shopping is very versatile and allows a business to set up custom-built scenarios and 'what if' situations to monitor different sales processes, legal and financial compliance (if applicable) and customer experience.
Managers can build a bespoke mystery shopping programme to suit their precise business objectives. For example, a large furniture retailer might want to look specifically at how corner sofas are being sold to customers and whether extras upselling is being done consistently and well. A mystery shopper can be given a very precise brief to trigger particular work flows and test staff knowledge. For a removals company, scenarios might include moving abroad, short timescales, delicate or valuable items being moved etc.
The options are endless and give managers the opportunity to test their frequent (or less frequent) customer journeys in a safe, controlled way, looking at all aspects of the process. In today's online world this might include follow-up sales activity monitoring, correct and complete delivery of email/text communications, seamless digital form filling, refund/returns processes and more.
CONCLUSION
Mystery shoppers interact with a business just as authentic customers do (they are real people after all).
So the fundamental purpose of Mystery Shopping is to allow managers to see their business with new eyes (without the inevitable bias of the insider); provide relevant feedback and training for staff; and check that processes and customer experience are being delivered as they should be – seamlessly and consistently.
To find out more about how Mystery Shopping programmes can directly lead to growing your business, please contact me, Gina Mayhead, Head of Insight Services at Yomdel.