Posted by Andy Soloman - 01 April, 2014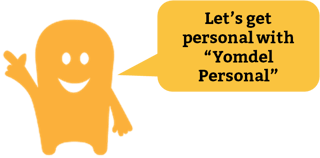 Personal shoppers via live chat? Yes absolutely. Here at Yomdel we have carefully listened to our clients and today we're delighted to announce the launch of Yomdel Personal, the world's first named personal shoppers that online retailers could use via live chat to accompany and advise their most loyal customers.
Not only would the personal shoppers be available to customers on the retailer's website, but they would be able to travel with chosen customers to other online stores, and even into high street shops, to ensure the client has an all-round terrific shopping experience.
We passionately believe that personalising the online shopping experience is critical for online retailers to create competitive edge. Yomdel Personal, not only does that but it extends into bricks and mortar stores. It is primarily targeted at those brands that wish to take their digital customer engagement to a whole new level.
While some brands could offer this at a cost to customers, we fully expect that the top end of the market will see this as an investment in creating and maintaining loyalty, especially among the highest spending clients.
Rather than solely using traditional live chat software, Yomdel Personal merges technologies to bring together a truly immersive personal shopping experience that enables co-browsing, text-based live chat and instant file sharing. It is fully integrated into client websites, meaning the customer is fully tracked from the moment they engage with their Yomdel Personal shopper. It is hoped to add voice and video capabilities in due course.
From the retailer's perspective, Yomdel Personal integrates with the CRM and web analytics, and delivers vast amounts of highly valuable data on customer behaviour. This in turn enables retailers to make constant improvements in their service.
To support Yomdel Personal, the company has established a Centre of Customer Excellence to train personal shoppers to the highest standards. Full time training takes six months and the first graduates are now emerging and are ready to be assigned to their clients.
[wpdm_file id=8]
Related articles