Posted by Yomdelier - 06 May, 2014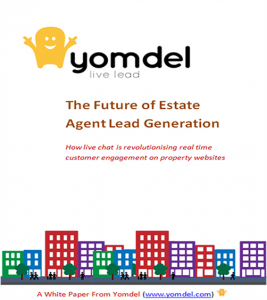 Even as the UK property market continues to pick up, estate agents and letting agents face a critical task to ensure they are securing a steady stream of high quality leads. Of course, many estate agents these days rely heavily on the property advertising portals such as Rightmove or Zoopla as they (rightly) believe most people start off looking through aggregated listings, but they should not ignore their own websites.
While many estate agents have good websites, there are many independents that still present a sub-standard face to the online public. But, whether a business has a super slick website or something that is barely functional, to overlook how property websites are performing is a mistake.
Estate agent and letting agent websites represent a fantastic goldmine of highly valuable and qualified leads that stand a better than average chance of converting into business. You just have to know how to engage in real time with people as they browse a website.
While it is possible to advertise or buy leads from other commercial suppliers, most estate agents and letting agents are overlooking the majority of potential leads that are staring them in the face. Every person that comes to visit a property website is expressing an interest, and by definition stands a much higher chance of being successfully converted.
Only very few website visitors will automatically register or pick up the phone. This is where live chat comes in, in that by having Yomdel's skilled operators sitting ready and waiting 24/7, website visitors can be proactively invited to chat online, they can be helped and guided and those all important contact details and other requirements can be captured. And what's more, it is a great customer service tool that creates an incredibly positive customer experience that is great for your reputation.
This new free white paper from Yomdel "The Future of Estate Agency Lead Generation" explains how all estate agents can benefit from live chat.