Change was always happening. But a crisis accelerates it dramatically.
Place restrictions upon people, and they will adapt fast. They find new ways to achieve their ends, and this could not be clearer than in online property market behaviour.
In our updated tracker report this week, we saw the exceptional increase in Live Chat usage on property websites maintained at its new high, with no sign of a return to normal pre-COVID levels.
It's here to stay and it's not really surprising. Perhaps it's already no longer exceptional?
Customers are at home for more hours of their day now. They commute less. They leave the house less. Doing fundamental chores outside, like shopping, now carry additional time and convenience penalties of queues, social distancing and safety concerns. So new habits are forming, and many are embracing them whole-heartedly.
But whether you yearn to get out of the house or not, one thing is certain. If you can achieve an objective online, you are overwhelmingly likely to do so, when compared with the alternatives.
Yet even we have been surprised at the size of the increase in Live Chat engagement across our client websites in the last 2 months. Live Chat has been growing as a channel preference for some time, and plenty of analysis exists to evidence that, based upon convenience, quick response, customer ability to multi-task and of course growing disuse of the telephone. Consistently first choice to contact friends or family nowadays is Text, WhatsApp or Messenger services, and customers are moving the same way to communicate with businesses too. Coronavirus has accelerated this movement!
Inevitably customers have turned online in property, as elsewhere during lockdown, to achieve their goals in the absence of many alternatives. But what indicates that this is a major shift rather than temporary expediency?
Well, we narrowed our tracking study on Estate Agent websites, to only review high value lead generating enquiries from Property Sellers or Landlords. Enquiries which would yield maximum revenue for the agent. We established the average levels of those enquiries over 15 months prior to Coronavirus, compared with average overall site visitor volumes, and as expected we saw the lines tracking one another consistently.
But as the graph below clearly evidences, after the initial lockdown-driven crash, as website visitor levels begin to return, high value enquiries accelerate as a much higher proportion of visitors than before.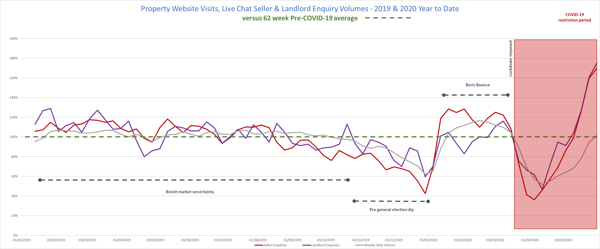 Given that behavioural restrictions will last for some time, potentially for the rest of this year and beyond, it is almost certain that this new behaviour established out of necessity, will continue to endure for convenience and efficiency.
Today, the majority of Yomdel Live Chat clients are seeing increased levels of lead generation through their own website, and are working hard to take full advantage of this welcome opportunity.
The nature of enquiry handling will surely change further, and businesses will need to adapt to new channel choices and reprioritise capacity and services to respond.
If you'd like to know more, or look deeper into the numbers, I can be reached at simon.taylor@yomdel.com or feel free to contact Yomdel for advice on prioritising your response handling and lead generation.