The annoying thing about cliches is they are true. And so we must examine what we know to be true here too: that we can surely come through this stronger. How we approach the coming weeks, will determine the future of our businesses. But who will get it right, and how will they go about it?
The Coronavirus (or COVID-19) is unavoidably causing pain and suffering globally. With many confirmed deaths in the UK, and over 5,000 globally, this WHO labelled pandemic will undoubtedly continue to have a significant impact on wider communities over the coming months.
Whilst the immediate health and safety of humans must always come first, it is also important to understand the wider, far reaching impacts that it will have on day to day lives and businesses. Many people will recover from this illness. Many businesses will not. And that will bounce back on those same people to affect their lives very seriously.
In normal circumstances, businesses have time to reflect on changing customer behaviour over time and make gradual business change to accommodate this accordingly. However, in rare moments such as this, customer behaviour changes rapidly and businesses face whirlwind changes of their own if they are to adapt quickly enough.
With people showing symptoms being advised to self-isolate, schools, shops and public events closing, major sporting events suspended and employers increasingly organising for people to work from home, we are beginning to understand the impact Coronavirus is having on customer behaviour.
Firstly, consumers have questions.
Lots of them. And it's natural. Whatever the service or product your business offers, it is inevitable that in some way it has been affected by Coronavirus. It may have impacted the supply chain affecting delivery times, the availability of your staff to engage with customers face to face as they usually would, or even an unwillingness to now travel to particular destinations due to health concerns in the region.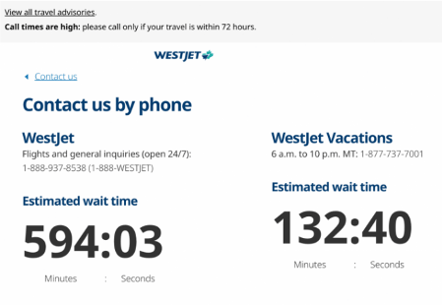 Whatever the specific impact on your business, customers are used to having real-time information at their fingertips. They want answers now.
Fail to meet this need and provide immediate and up to date information and you risk your brand reputation and immediate opportunities.
This is particularly highlighted in the Travel & Tourism Sector, with call wait times as long as 10 hours being reported.
Secondly, consumer focus turns predominantly online.
People are increasingly working remotely or are in self isolation, driving alternative buying patterns. The high street, already under severe pressure, is being squeezed even more so in the wake of this immediate shift.
Now, in search of answers and in fear of unnecessary face to face interactions, consumers turn exclusively to the internet as a means to research goods and services, completing purchases or booking appointments online wherever possible.
A recent Barclaycard survey found sales at department stores dropped 3.6% in February and Restaurants revenue fell 6.4%. Whilst in the same time frame, online sales rose by 3.6% total according to the British Retail Consortium.
And the numbers outlined above are expected to increase dramatically following the larger impact of Coronavirus in March. Businesses must act now.
Is there an opportunity?
With the above in mind, it is easy for businesses to feel doom and gloom. However, as with any significant shift in consumer behaviour, there is an equally significant business opportunity if you can be agile enough to meet it.
We are a long way behind China in their fight with the Coronavirus. However, this does provide us a great opportunity to learn from them. Cosmetics company Lin Qingxuan had to close nearly half of its stores, which would in normal circumstances lead to massive losses. However, by redeploying its in-store staff across digital platforms they drove a 200% growth in sales year on year.
Where businesses understand the changing customer experience, they can and will succeed. Those who see this a blip, may find that consumer behaviour has changed forever, even when we emerge on the other side. Those who see this moment clearly, will win short-term and long-term.
What is the best approach?
Here are a few fundamental suggestions to kick-start a positive reaction to the challenges ahead:
1. Understand the changing landscape and how it affects you. Look at what your customers are doing differently, and respond to that. If fewer people are walking through the door, get emails, social posts and SMS messages out there, and tell them you are available online.
2. Speak to your customers and prospects, understand what their preferred communication and service delivery channels are, and begin to adapt your approach quickly. Many are living through the same challenges in their work, and will forgive imperfections, instead appreciating your efforts to accommodate them.
If you are not sure on how to approach this, have a chat with us, Yomdel can help.
3. Be proactive. Identify your customers' biggest frustrations, and implement positive changes to help mitigate these. But remember, time is of the essence, so find quick solutions that work well.
For example, we know that customers' biggest frustrations are not being able to find information online, and not being able to get through to sales or service. You could review how you make fast answers available to customers, how they can be assisted to find what they need, and booking scheduled calls with your team.
4. Communicate clearly and regularly, through your website, email and social channels, and let them know the new facilities and contact channels that you have. They will assume you are the same unless you tell them, and remind them regularly.
5. Consider how you are going to deal with inbound enquiries. Have you got the capacity to deal with increased volumes of email, live chat, social media etc. If not, it might be a good idea to outsource, even if only for the short term. This will take the burden off your team, making sure the customer experience doesn't suffer, and allowing them to prioritise follow-ups and conversions.
Yomdel has developed an emergency Live Chat support team that can help handle an influx of inbound customer service enquiries, specifically adding knowledge regarding how your business can service customers during this unprecedented time.
How you act now, and how you choose to approach this seemingly impossible challenge, will indeed determine where your business is when we come through the immediate health challenges. Don't sit still and simply let the situation take control. Get ahead of it. Your team will thank you more than anyone!
Chat with us anytime. We're always here to help.